MEMBERSHIP
---
Our members are expected to acquire and maintain training to a professional level as required by our tasking agencies, in such disciplines as tracking, wilderness first aid, radio communications, wilderness survival, evidence searches, and associated documentation.
Our volunteers are enthusiastic people who are willing to commit to regular training and committee meeting, plus other events and searches. A search is an emergency and can happen at any time. Our volunteers need to be ready to be deployed into the field at a moment's notice.
Those volunteers interested in performing ground searches should meet the following criteria:
Over 18 years old
Dedicated to helping people in distress
Willing to attend regular training and committee meeting, plus meetings and searches
Standard first aid certificate (current within six months of expiry)
Good physical condition
A team player
Volunteer oriented
No criminal record (vulnerable sector)
COMMITTED
Maybe you are not physically able to conduct searches –  you can still help with supporting the team through fundraising, administration, support tasks, and other less physically demanding roles.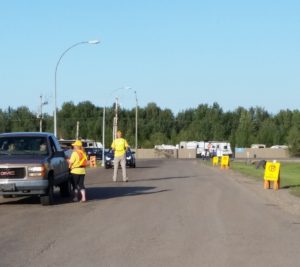 Interested in getting involved and becoming a member? Please contact Jeremy.